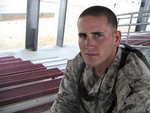 Cpl. Albert Gettings
"A True Hero"
You see a little boy playing dress-up in camo and making shooting sounds with toy guns. He can't be more than eight years old. You see him playing outside every day in the same camp with the same toy guns. "What do you want to be when you grow up?" you might ask. His response: "A soldier!"
Flash forward twenty years and you see that same little boy, now since grown. He is dressed in uniform – this time in government-issued camouflage – a true hero. Added to his uniform is his body armor and bulletproof vest. Real rifles and machine guns replace the toys of yesterday. He no longer drives around his little boy battery-powered Jeep; now, it's a tank. You see the boy, now a man, with his comrades as they build walls of sandbags in the desert on the other side of the world.
Suddenly, these men in uniform are commanded to find a sniper; they go without a second thought. A shot pierces the air. One Marine falls, and our hero runs, responding to aid his fellow Marine.
Sounds of battle fill the air. A bullet exits from the front of our hero's abdomen, but miraculously, he continues on, still fighting to protect his comrades. Obviously wounded, our hero amazingly goes on to lead his troop thorough a seventeen-minute battle. He saves many lives before finally collapsing. The last words to his fellow Marines: "Be tough; hang in there!" The words part of the scene before you? Terrorists and used the film footage as Taliban war propaganda!
This is the true story of Cpl. Albert Gettings, of the United States Marine Corps. As a little boy, he always wanted to become a soldier. He attended Slippery Rock University before signing up for the USMC. He scored high on his ASVAB's and he received an accounting job, but he couldn't settle for a simple desk job away from the action. Albert asked permission to try out for ReCon, a difficult decision for both Albert and his family, and he was eventually assigned to infantry.
Albert would call his family and tell them , without disclosing his actual location, what he could about how horrible the war was where he was stationed. He never wavered as he reminded them, "How soon we forget 9-11." Despite his caution, Albert gave his life in service to his country.
After finding out about this hometown hero, a memorial organization contacted Mr. and Mrs. Gettings about a memorial foundation for Albert. The organization needed to know where they would like the contributions to go. Because of the heroic acts of Albert and his desire to help others in every way possible, the Albert Gettings Memorial Foundation Scholarship came into existence.
One of the goals of the memorial foundation is to aid seniors with scholarships. These funds help seniors take BC3's Dual Enrolment classes, aid in expenses for LCCTC seniors who continue to college or who fund their future in the workforce, and assist New Castle High School seniors who also wish to attend college. The foundation has also donated to the Wounded Warrior Operation Lifeline and other organizations in our community.
This memorial foundation means so much to so many, allowing the memory and story of Albert Gettings to live on. Let us never forget us that Albert was a true hero.
By ~ Kate Hasson, 11th Grade Health Assistant Student