---
Great artwork: https://upload.wikimedia.org/wikipedia/commons/a/aa/GMAW.welding.af.ncs.jpg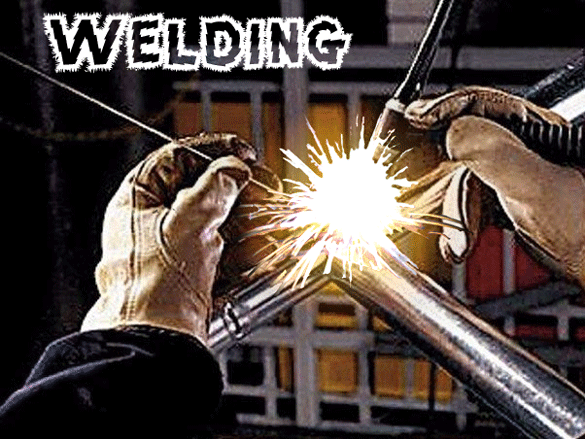 Graphic Designed by COT student Shay Locke
Welcome to Welding!
My name is Mr. Petronelis, and I am pleased to serve as the Weld Shop Instructor here at LCCTC. For over a quarter of a century, I have worked in the welding/fabrication industry. I am also a small business owner for the past 4 years. I am a certified welder and an active member of AWS. I am the proud father of three and am happily married to my high school sweetheart. An avid outdoorsman, I am the advisor of the LCCTC Conservation Club.
About the Program:
Program name: Welding Technology/Welder.
CIP Code: 48.0508
First and foremost: SAFETY FIRST!
An instructional program that prepares individuals to apply technical knowledge and skills in the following:
· Gas
· Arc
· Shielded and non-shielded metal arc
· Brazing
· Flame cutting
Students learn:
· safety practices
· types and use of electrodes and welding rods
· properties of metals
· blueprint reading
· electrical principles
· welding symbols and mechanical drawing
· use of equipment for testing welds by destructive and nondestructive methods including ultrasonic, liquid dye, x-ray, bend and hardness testing
· use of manuals and specification charts
· use of portable grinders and chemical baths for surface cleaning
· positioning and clamping
Welding standards are established by the American Welding Society, American Society of Mechanical Engineers, and American Bureau of Ships.
Welding by Definition: A joining process producing coalescence of materials by heating them to the welding temperature, with or without the application of pressure or by the application of pressure alone, and with or without the use of filler metal.
Units of Study:
· Occupational Orientation and Safety
· Principals of Welding
· Welding, Drawing, and Weld Symbol Interpretation
· Visual Examination, and Testing
· Shielded Metal Arc Welding (SMAW)
· Gas Metal Arc Welding (GMAW)
· Flux Cored Arc Welding (FCAW)
· Gas Tungsten Arc Welding (GTAW)
· Manual Oxyfuel Gas Cutting (OFC)
· Mechanized Oxyfuel Gas Cutting (OFC)
· Manual Plasma Arc Cutting (PAC)
· Manual Air Carbon Arc Cutting (CAC-A)
· Brazing and Soldering
Recommended High School Courses:
• English/Communications
• Industrial Arts
• Mathematics - Basic Math, Algebra I and II, Geometry
• Computer Basics
• Applied Sciences, Chemistry, Physics
Certifications:
Students should aspire to become AWS certified, the basic AWS certifications most local employers' desire are:
· SMAW, Section IX ASME Boiler Pressure Vessel Code, 6G, Pipe
· FCAW, AWS D1.1 (96) Structural Steel Welding Code, 3G, Plate
· GMAW, AWS D1.1 (96) Structural Steel Welding Code, 3G, Plate
Seniors of this three year program will be eligible to become qualified to attend an AWS Skills competition where students from Western PA CTC's will compete for scholarships and AWS Certifications. Only three seniors per year will be selected to participate from our shop.
Skills USA offer our welders opportunities to compete for scholarships and nationwide recognition in a Welding and Sculpture competition. Participants will be determined prior to competition time, only one student will be able compete in each event.
Employment Outlook:
For additional information, please refer to this link: http://www.bls.gov/ooh/production/welders-cutters-solderers-and-brazers.htm
Employment of welders, cutters, solderers, and brazers is expected to grow 15 percent from 2010 to 2020 (about as fast as the average for all occupations).
Employment growth reflects the need for welders in manufacturing because of the importance and versatility of welding as a manufacturing process. The basic skills of welding are the same across industries, so welders can easily shift from one industry to another, depending on where they are needed most. For example, welders laid off in the automotive manufacturing industry may be able to find work in the oil and gas industry.
Growth of the defense industry, including the manufacturing of aircrafts and missiles, is expected to contribute to employment growth.
In addition, the nation's aging infrastructure will require the expertise of many welders, cutters, solderers, and brazers to rebuild bridges, highways, and buildings, resulting in some new jobs.
Overall job prospects will vary by skill level. Job prospects should be encouraging for welders trained in the latest technologies. Welding schools report that graduates have little difficulty finding work, and many welding employers report difficulty finding properly skilled welders. However, welders who do not have up-to-date training may face competition for jobs.
For all welders, job prospects should be better for those willing to relocate.
Retirements and job growth in the oil and gas and other industries are expected to create excellent opportunities for welders. Welding schools report that graduates have little difficulty finding work, and some welding employers report difficulty finding trained welders.
The median annual wage of welders, cutters, solderers and brazers was $35,450 in May 2010. The median wage is the wage at which half the workers in an occupation earned more than that amount and half earned less. The lowest 10 percent earned less than $23,940, and the top 10 percent earned more than $53,690.
| | |
| --- | --- |
| Other general purpose machinery manufacturing | $15.43 |
| Agriculture, construction, and mining machinery manufacturing | $14.90 |
| Commercial and industrial machinery and equipment (except automotive and electronic) repair and maintenance | $14.59 |
| Architectural and structural metals manufacturing | $14.39 |
| Motor vehicle body and trailer manufacturing | $13.68 |
Wages for welders, cutters, solderers, and brazers vary based on experience, skill level, industry, and company size.
About 17 percent of welders belong to a union.
Although most welders, solderers, cutters, and brazers work full time, overtime is common in this occupation. Many manufacturing firms have two or three shifts each day, ranging from 8 to 12 hours, which allow the firm to continue production around the clock if needed. Therefore, welders, cutters, solderers, and brazers may work evenings and weekends.
Industry

2-Year Associates Degree or 2-4 Years in Industry

4-Year Bachelor's Degree or 4-6 Years in Industry

Production Worker
Apprentice
Welder's Helper
Welder

Associate Welding Engineer
Pipe Welder

Welding Engineer
Certified Welding Inspector
Forman
Fitter
Union Journeyman (Ironworker, Steamfitter, Sheetmetal Worker, Boilermaker, Pipeliner)
Articulation Agreements: Coming soon.